07 May

Military Spouse Appreciation Day!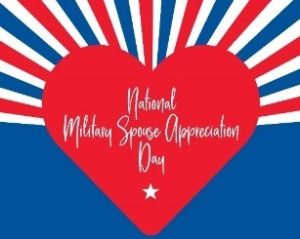 While we appreciate and recognize our Military Spouse every day, this is a special day to pause and acknowledge the military spouses around you!
President Ronald Reagan declared the first official Military Spouse Day in 1984 to recognize the profound importance of a spouse's commitment to the readiness and well-being of military members. Now, every year the Friday before Mother's Day is designated as Military Spouse Appreciation Day, a time to recognize and appreciate the many sacrifices of military spouses.
Military spouses are the silent heroes who sacrifice daily to support and give strength to our Service Members. They prepare for many unknowns during the military life, are the backbone of the family, and are essential to the strength of our military community
Zeiders understands the difficulties and uncertainties of daily life as a military spouse. We appreciate their strength, resilience, and caring! Over 30% of Zeiders employees are military spouses.
Thank you to all military spouses for your service!