02 May

Mental Health Awareness Month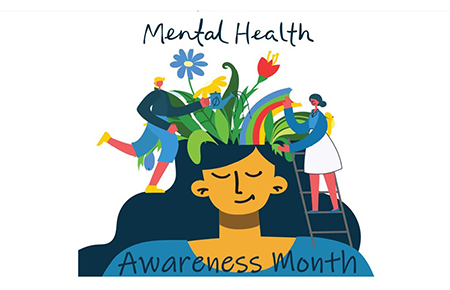 May is Mental Health Awareness month. It is an opportunity to raise awareness of those living with mental or behavioral health issues and help break the stigma so many experience. It is also a great time to assess the balance in our lives, despite today's dramatic and unexpected stressors.
Millions of Americans will go through their life with feelings of overwhelming sadness or anxiety without ever knowing why. In fact, almost half (46.4%) of adults in the United States will experience a mental illness during their lifetime. Mental health conditions affect us all, either personally or through someone we know.
Listed below are a few simple tips to help improve your mental health:
Talk about your feelings. Reach out to friends or family. This will help you deal with times when you feel troubled.
Keep Active. Regular exercise can boost your self-esteem and can help you concentrate, sleep, and feel better. Exercise keeps the brain and your other vital organs healthy, and is also a significant benefit towards improving your mental health.
Eat well. Your brain needs a mix of nutrients in order to stay healthy and function well, just like the other organs in your body.
Don't be afraid to ask for help! No one is superhuman. Everyone needs a little extra support on occasion. Reach out to a counselor, local services are there to help you.
Take a break. It could be a five-minute pause from cleaning your kitchen, a half-hour lunch break at work, or a weekend exploring somewhere new. A few minutes can be enough to de-stress you. Give yourself some "me time".
Do something you enjoy. Doing an activity you enjoy probably means you're good at it, and achieving something boosts your self-esteem
Mental health is serious and not something to shy away from talking about. To learn more about how to speak up early and educate people about mental illness – and how to do so in a compassionate, judgement-free way – visit the National Institute on Mental Health website.
Zeiders recruits behavioral health professionals who combine years of education and experience with military cultural competency. We ensure clinical counseling and non-clinical counseling services are provided by individuals maintaining the highest ethical standards and up-to-date knowledge on clinical care standards. Visit Zeiders.com/careers for more details.