08 Apr

Celebrating Military Children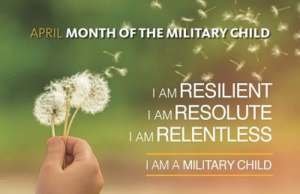 April is the Month of the Military Child. Military children of all branches of service will be celebrated in special days and events designed to honor them and their families throughout the month. Started in 1986 by then-Defense Secretary Casper Weinberger, the Month of the Military Child honors the sacrifices and unique challenges faced by children of Service members.
The resilience of military children is an inspiration to us all. There are currently 1.2 million children of active duty members worldwide. Throughout their lives, military children go through stresses and challenges ranging from frequent moves to family separations, and we celebrate them for their spirit and strength.
Zeiders joins in recognizing the unique contributions of military children in supporting their parent or parents in the service of our nation. With over 60% of our employees having an affiliation to the Military, Zeiders understands the challenges faced by military children, and thanks their families for the sacrifices they are making in their choice to serve our nation. Military kids bring joy and inspiration to our lives!
Join us in showing support for our military children on April 12 by wearing purple to participate in the "Purple Up! For Military Kids" campaign. Wearing purple is a visible way to show support and thank military youth for their strength and sacrifices. Purple is the color that symbolizes all branches of the military; Air Force blue, Army green, Navy blue, Marine red, and Coast Guard blue combine together as a single color, purple.