06 Oct

Zeiders Noted as Military Friendly Employer!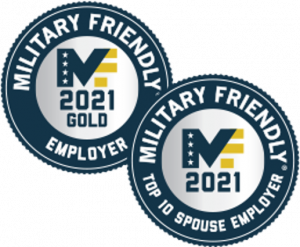 Zeiders Recognized as a 2021 Top Military Friendly® and Military Spouse Friendly Employer!
The Military Friendly® Employer designations from Victory Media, are the standard that measures an organization's commitment, effort and success in creating sustainable and meaningful career path for the Veteran community and Military Spouses
With nearly 2,000 organizations submitting for the Military Friendly designation, Zeiders is thrilled to be recognized as a Top 10 Gold Level Employer for Military Spouse hiring and a Gold Level Veteran Employer, creating true and measured economic opportunity for veterans.
Final ratings for these honors are based on an assessment of an organization's ability to meet and exceed thresholds for applicants, new hire retention, employee turnover, promotion & advancement. These designations consider company polices, processes, and resources that provide the greatest career potential for Veterans and Spouses. Recognizing that hiring is important, for military spouses the real challenge is sustaining a career during constant geographic relocations. This designation highlights the efforts of companies across the country to help military spouse employees have long-term careers.
"Companies that have earned this designation have invested in substantive programs to recruit, retain and advance veterans within their organizations," said Josh Rosen, Director of Military Friendly®.  "To them, hiring veterans isn't just the right thing to do. It's good for business."
Being recognized as a Military Friendly® Employer and Military Spouse Friendly Employer is a testament to our company's commitment toward recruiting, hiring and training our nation's Veterans and Military Spouses. Our company culture and commitment to having the right people, programs and policies in place have put us ahead of the pack.