17 Nov

Warrior Care Month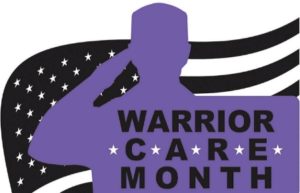 The Department of Defense, military services, and collaborating organizations use November to celebrate the strength and resilience – physically, mentally, and spiritually – of our wounded, ill, and injured Service members, as well as their families and caregivers; raise awareness of the warrior care resources and programs available today; and inspire year-round discourse regarding today's warrior care priorities.
There are currently over 15,000 people who actively care for Service members. There are also more than 1 million caregivers providing support to post-September 11th veterans. As the act of caregiving exacts a tremendous physical and mental toll on caregivers, the requirement to support this community is ongoing.
Supporting Warrior Care Month can be as simple as finding events at the nearest military base held in the month of November to support wounded warriors. It can also include taking part in what the Department of Defense calls "signature events" in the month of November. Supporting Warrior Care Month can also mean becoming educated about the needs of wounded warriors from all branches of service.
Warrior care encompasses a full spectrum of support through recovery, rehabilitation, and reintegration back to duty or transition back into the community. We have seen a change in warriors due to force reductions, decreased operational deployments, and evolving service member demographics but policy, processes, and baseline capabilities must still address the diverse needs of service members and caregivers.
Zeiders stands proudly with the many Military and Veteran Service Organizations that serve those in need, like the National Military Family Association and the Wounded Veteran Family Care program.