13 Apr

Sexual Assault Awareness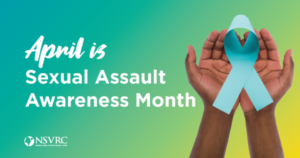 April is Sexual Assault Awareness Month. This is a time to raise public awareness about sexual violence and educate communities on how to prevent it. It is a widespread problem and can happen to anyone, including children, teens, adults and seniors.
According to the Rape, Abuse & Incest National Network, RAINN, an American is sexually assaulted every 73 seconds. And every 9 minutes, that victim is a child. Despite these alarming statistics, rape is still the most under-reported crime. In fact, 63% of sexual assaults are not reported. And only 5 out of every 1,000 perpetrators will end up in prison.
We all have a unique role to play in prevention and changing the culture. When we reflect on and change how we think and talk about the issue of sexual violence, we can create a culture of respect, equality and safety. All of our voices have power. Our words shape the world around us. How we talk about sexual violence matters.
If you or someone you know has witnessed or been the victim of sexual violence, please call 911 and the National Sexual Assault Network at 1-800-656-HOPE.