18 Sep

Happy Birthday to the United States Air Force!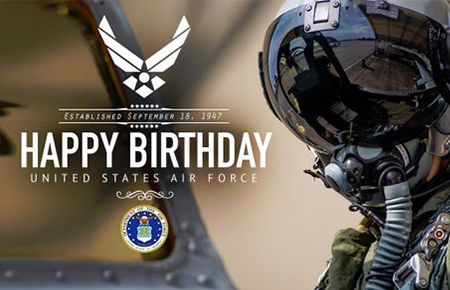 Happy Birthday to the United States Air Force!
Until the birth of combat air power, the roles and missions associated with services were clearly defined, and often didn't overlap. This began to change in World War I.
Aircrafts provided opportunity to impact enemies beyond a depth that could be readily imagined. In between the World Wars, branch services began to develop and invest in their respective aviation arms, and by the time World War II began, the clear lines of separation between branches were gone.
Due to the seemingly boundless capabilities of an air domain, after World War II, the independence for the Air Force was inevitable. In 1947, the Air Force became its own separate service after a 40-year association with the Army.
Today, Zeiders celebrates the Air Force's dedication and innovation and honors the men and women who support the defense of our nation in the air. Many Zeiders' employees have an affiliation with the Air Force as a member, a Reservist, Veteran, spouse, child, or parent. We are inspired by the sacrifices and courage each member of the Air Force, and united by our shared values of integrity, service before self, and striving for excellence in all we do.
Happy Birthday Air Force!