13 Oct

Happy Birthday to the United States Navy!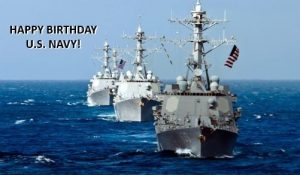 With over 330,000 active and 100,000 on ready reserve, the United States has the largest Navy in the world. On land, at sea, in the air, and across the globe, America's Navy represents the courage, skill and determination on which our country was founded. The Navy's quick call to action and tireless efforts ensure the safety and democracy of our nation.
Generations of Service members have protected our democracy, advanced our ideals, and brought strength to our Country. America has endured because of the men and women who selflessly dedicated themselves to military service.
Zeiders extends our gratitude to all those who serve in the United States Navy and to the dedicated and loving families who serve with them. Many Zeiders employees have an affiliation with the Navy as a Reservist, Veteran, spouse, child or parent. Today we join in the celebration of 245 years of naval superiority by saying Happy Birthday to all sailors, Navy civilians, Veterans and proud families. Thank you for your honor, courage, and commitment.
Happy birthday and GO NAVY!