18 Sep

Happy Birthday Air Force!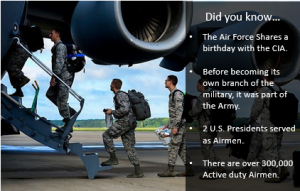 Originally part of the U.S. Army, the Air Force was made its own branch on September 18th, 1947 and is critical to our country's military power through its strategic, tactical, and defensive abilities.
Zeiders thanks the men and women who serve to protect and defend our country.
Over 100 Zeiders employees have an affiliation with the Air Force as a member, a Reservist, veteran, spouse, child, or parent. Zeiders is proud of our people and inspired by our shared values of integrity, service before self, and striving for excellence in all we do.
Happy 73rd Birthday, Air Force!