06 Nov

Focus on Warrior Care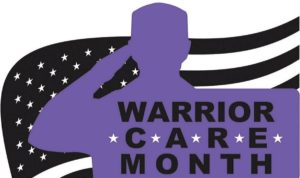 November is Warrior Care Month. While wounded warrior care is a year round service, during the month of November we hope to bring awareness to our warriors and their caregivers. It began in 2008, when a press statement was released pointing out the less than ideal care facilities in use for our wounded troops.
There are over 15,000 people that are actively caring for service members. During the transitional period into civilian life, it is important that veterans have the resources they need. According to a 2017 survey, PTSD is the most commonly self-reported issue for wounded service members.
Support Warrior Care Month by becoming educated about the needs of wounded warriors from all branches of service. The DoD Warrior Care official site has a variety of resources, fact sheets, and referral information to learn about those who have service-related medical issues.